Ambergris Caye offers superb snorkeling. To enjoy it best you'll need to take a short boat trip out from shore.
You can snorkel off the beach at your hotel or anywhere on the island, but you don't usually see as much. Some hotels work hard to keep their piers as appetizing to the fish as possible. It can be quite pleasant to float around and see what you can see off shore.
These snorkeling trips usually last two to three hours. Typically, snorkel boats go out once in the morning and once in the afternoon, more frequently during busy periods. A couple of dozen dive and snorkel operators offer snorkel trips. It is difficult to recommend one over another, as the quality of the experience depends on who is your guide on a particular trip and also the weather and sea conditions. However, see the list of recommended dive shops at the top and bottom of this page.he three most-popular areas for snorkeling from boats near Ambergris Caye are Hol Chan Marine Reserve, Shark-Sting Ray Alley and Mexico Rocks. A visit to Hol Chan and Shark-Ray Alley to the south of San Pedro are usually combined into one trip, while Mexico Rocks to the north of town is usually a separate trip. Boat trips to either of these destinations cost around US$20 to $25 per adult, which usually includes snorkel mask and fin rental and a guide who will go into the water with you and point out the sights. Kids under about age 12 go for half price. 
There is an additional US$2.50 per-adult fee for admission to Hol Chan Reserve. The fee, which goes toward preservation of the Belize's parks, is collected at the reserve by rangers in power boats, so be sure to bring your money.
Note that boats cannot always go out, due to wind and weather conditions. When there's a strong wind or during "Northers" in the winter, snorkeling is unpleasant at best and could be dangerous.
Night snorkeling trips also are available, at around US$20 per person. Night snorkelers may see lobster, eels, octopus and other creatures.
…so you see, not much variation. Depth doesn't matter much in open water, unlike in lakes that experience thermoclines. The sea is in a constant state of flux, so the temp at the surface is very close to that at 100′. A diversion from this is the Blue Hole, that does have thermoclines because of its topography and the lack of a current to turn the water over to even out the temp.
The most common question after the general water temperature is what is the temp. in the Blue Hole at 130ft…..about 76f with hardly any change throughout the year at that depth.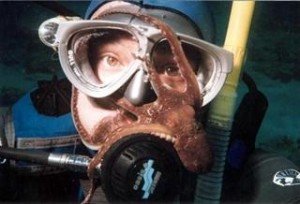 The Hol Chan Marine Reserve, about 4 miles south of San Pedro, is a 5-square-mile underwater national park established by the Belize government in 1987. Because fishing is prohibited in the reserve, there is a considerable amount of sea life. At the cut here, you may expect to see large groupers, nurse sharks, sting rays, moray and other eels, spadefish, schoolmasters and other fish. Much of the bottom is sandy, but you also will see bright coral. Depth is fairly shallow at between 5 to 30 feet. Visibility is usually good, at 50 to 60 feet or more, with late spring having the best water viz.
Several snorkel boats may congregate at one time. In fact, it's a good idea to make a mental note of the name or identifying colors of your boat, so you don't swim back to the wrong boat. Do not touch the coral with your hands or fins, and do not feed or touch the fish.
Caution! Tidal currents here can be quite strong. Weak swimmers or younger children may tire quickly swimming against the current. Ask your guide about the strength of the current at the time you are there, and let the guide know if you are not a good swimmer or have any disability. Don't be shy about accepting a life jacket.
Shark- Ray Alley is a shallow cut to the south of Hol Chan where nurse sharks and sting rays congregate. Guides sometimes chum to attract the sharks, and you can jump in and swim with them. It's not half as scary as it sounds, and most of the people who come on the snorkel boats do get in the water here.
At Mexico Rocks, off North Ambergris opposite a former coconut plantation, you may not see as many fish as at Hol Chan, but the coral is beautiful. Also, this area is protected from ocean swells and currents, so it makes for easier snorkeling. Depth is only about 6 to 12 feet, so you can see everything up close. Water viz is about the same as at Hol Chan, 50 feet or more.
Catamarans and other vessels based in San Pedro visit some of Belize's other cayes and atolls, on longer trips for snorkeling and picnics. You typically pay US$35 to $75 for these trips, depending on the length of the trip, where you go and whether lunch and drinks are included. San Pedro also has several glass-bottom boats which offer trips for around US$20.
It's a long way to go for snorkeling, but Belize's atolls offer good snorkeling in shallow water around patch reefs. Day snorkel trips to Lighthouse or Turneffe atolls run about US$100, including lunch and snacks.
DIVING & SNORKELING-
The diving; snorkeling immediately around Ambergris Caye is easily accessible. There is also some environmental degradation to the reef due to its use, although permanent mooring buoys at some sites have reduced anchor damage.
Divers and snorkelers will enjoy the shallow dives and get to see a good variety of sea life and coral. Those willing to make a larger investment in time and money can use San Pedro as a base for day trips to distant cayes and atolls, which offer some of the best diving & snorkeling in all of the Caribbean. Diving around the atolls is mostly wall diving, while diving around Ambergris is spur-and-groove with some deep canyons, swim throughs and reef cuts.
Heavy wave action from Hurricane Mitch did only limited damage to dive sites around Ambergris Caye. It destroyed some fragile coral, such as elk horn and seafans, especially near the water surface, and caused temporary loss of pigmentation in hard coral, but it scoured out green algae and cleaned out sand.
One of the good things about Ambergris Caye, in the eyes of many, is that it does not cater only to divers. Indeed, the majority of visitors to the island now are not divers, and this means that those who don't dive will not feel they are just extra baggage on a dive machine. Ambergris Caye offers a good mix of dive and non-dive activities. Those who wish to do nothing but dive, eat, sleep, and dive may be better off choosing a dive lodge on one of the remote atolls or a live-aboard dive boat.
Among the popular dive sites around Ambergris Caye are Hol Chan Cut, Tackle Box Can.
Two-tank dives around Ambergris Caye typically go for US$45 to $55, averaging US$50. One-tank dives are about US$20 less; three-tank dives about US$20 more. Rates usually include tanks, weights and belts. Other equipment is extra; US$20 is about average for a full set of gear.
If you want underwater adventure without the hassle of becoming a certified diver; then SNUBA is for you!
SNUBA diving is the safest and easiest way possible to experience the fascination of Scuba diving with the simplicity of snorkeling. You can SNUBA down to 20 feet with no prior experience. Explore clear tropical waters with pristine coral reefs and incredible sea life paired with the most knowledgeable SNUBA guides in the world!
Just bring your bathing suit and grab that underwater ! Depart aboard a boat for a scenic cruise to one of our SNUBA locations. While underway, your professional SNUBA guide will provide a briefing on the safe use of SNUBA. Your tour is fully guided for your safety and entertainment.
Those looking for even better diving likely will consider diving one of Belize's atolls. These are Pacific-style atolls with coral islands surrounding a fairly shallow lagoon. Only four true atolls exist in the Western Hemisphere; three of them are off Belize. Belize's three atolls are Turneffe Islands, Lighthouse Reef, and Glover's. Turneffe and Lighthouse are closest to Ambergris Caye and are practical day trips.
A new marine reserve around the Silk Cayes and Galdden entrance opened recently with whale sharks a major attraction.
For the more-serious diver, there is variety enough here to make for many weeks of diving. Visibility is terrific, often 150 feet or more. While many of the sites are best for intermediate and advanced divers, some are suitable for novice divers.
From San Pedro, expect to pay about US$125 to US$185 for a day trip to Lighthouse or Turneffe, depending on the number of dives. Lunch is usually included. A typical trip to Lighthouse takes one and a half hours or a little longer each way, includes three dives, lunch and snacks and costs about US$150 per person. Note that sometimes dive trips are canceled if not enough divers sign up for a specific trip.
The Turneffe Islands are about 20 miles east of Belize City. This is the largest atoll and the closest to the mainland. It differs somewhat from the other two atolls in that most of the islands here are densely covered in mangroves, especially on the west side. Black Beauty, Myrtle's Turtle and Mauger Caye (north of the atoll, with a lighthouse) are among the popular dive sites here. Mauger is known for its sharks.
Lighthouse Reef is about 60 miles east of Belize City. Lighthouse is home to Half Moon Caye Natural Monument, comprising about 15 square miles of atoll plus another 15 square miles of surrounding waters. Protected as a marine reserve since 1981, Lighthouse teems with birds, including a nesting colony of rare red-footed boobies. Under water life is also rich here, with dolphins and other creatures.
At Lighthouse also is the Blue Hole, a limestone sinkhole several hundred feet across and more than 400 feet deep, made famous by Jacques Cousteau. Divers usually report that while the Blue Hole is worth doing once, it is more spectacular when seen from the air then from underwater.
Glover's Reef is about 30 miles east of Dangriga. The perimeter of the atoll has elk horn coral forests. Here and in a deeper sandy area is a great variety of fish and sea life, including many sharks. Shark Point, northeast of North Caye with its lighthouse, is well-known for hammerhead and tiger sharks.
San Pedro has the country's only hyperbaric chamber. It's located near the airstrip. Most dive shops ask for a small donation with each tank fill which goes toward funding the chamber.
For those who don't dive but would like to, several Ambergris Caye dive shops offer courses and training. A resort course costs about US$125. This includes classroom training, practice in a pool or in the water, and an actual dive, usually at Hol Chan. Complete open water certification runs US$350 to $400 and requires four days. For those who have completed classroom instruction elsewhere, the two-day open water training is about US$200.
I would rate the safety of dive shops in San Pedro as much higher than dive shops in, say, Florida, where dive shops are afraid to put divemasters in the water with their diving & snorkeling guests. The reason? If a dive shop elects to properly supervise diving activities in Florida, and there is an accident, even a minor one, then the diver can sue the tar out of the dive shop and divemaster. It is actually better for a Florida dive shop to have 5 unsupervised diving deaths a year than have 1 minor supervised diving accident (where, say, a diver has to go to a dive chamber for a few hours treatment, full recovery, and sues dive shop for 50million for "pain and suffering caused").
In Florida, it is standard practice for a dive boat to leave port with 20-45 divers, one captain and one non-diving divemaster. Here in San Pedro we would never dream of such a terrible mis-match of divers to divemasters, and our dives are ALWAYS in-water supervised by qualified divemasters.
Dive shops here are not afraid to tell a guest that the chamber is needed treatment if that guest is feeling funny after diving. The great thing about chamber treatment is that it's fairly routine….the crime is letting mild symptoms get worse by not admitting one of your divers to the chamber because of the potential for getting a bad reputation.
Every serious dive shop on Ambergris Caye has an excellent safety record, and no dive shop can or should claim to have the "best safety record" on the island.